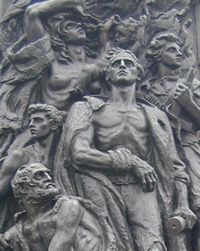 Memorial of
the Ghetto Heroes

Today, it's overcast, damp, and downright chilly. From what I understand, they've been having a heat wave here in Warsaw, it's been unseasonably warm and sunny for weeks. Just yesterday, in fact, I walked around the city in shirtsleeves. Today I'm wearing a sweater and a jacket, and I'm cold. I don't really mind that, but the gray skies aren't going to make my photos any better. (And I need all the help I can get.)

Tomorrow morning, I'll leave on a three-day escorted tour of the areas where my ancestors lived, in northeastern Poland. I arranged the tour through a company called Our Roots, located here in Warsaw. I stopped by their office to meet them yesterday afternoon, but I was too late, they had already gone home. So while I'm out for a stroll this morning, I decide to give it another shot.

This time, I get lucky, the office is manned, in the person of Jerzy Malenczyk, who tells me that he's been assigned to be my guide. He also insists that I call him "George" – I imagine that he's tired of cringing as Americans mispronounce Jerzy, so he's given himself a nickname that we're less likely to butcher.

While I'm in the Our Roots office, I purchase copies of two of their books, A Guide to Jewish Warsaw and A Guide to Jewish Cracow. About half of the Warsaw Guide is dedicated to a series of six walking tours of the city that cover what the book describes as "Traces of Jewish Presence." The sixth tour covers a few distant sites on the other side of the river, but the first five tours seem to cover areas that lie within relatively easy walking distance of the Our Roots office. So, since I have no firm plans for the day anyway, I decide to see if I can cover those first five walking tours and document them, with words and pictures, here in this website.