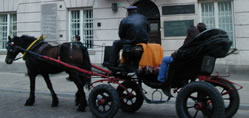 Carriage in Front of
Marie Curie's Birthplace

Today's an "off day," no strenuous activities planned. I think I'll take a look around Warsaw, see some of the tourist sights, and generally take it easy. After three relatively exciting days on my "family roots" tour, I'd like to get some rest before I head out of town tomorrow for a couple of nights in Krakow.

Warsaw was largely leveled by the German army during the war, and so most of the historical sites – including most of both the "Old Town" and the "New Town" – are actually careful post-war reconstructions. So even though the Old Town was founded about 700 years ago, much of what I'll see today is barely 50 years old.